Extended Office Hours
It's easy to find a time to come in for your dentist appointment with our extended hours. We are open from 8 AM to 1 PM on Saturdays, so you can stop by on the weekend instead of having to make time in your busy weekday schedule or take time off work or school.
---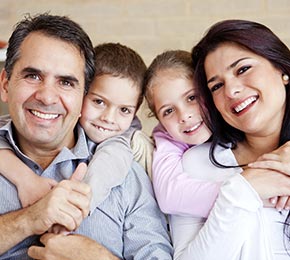 Convenient Scheduling
If it's more convenient for you, feel free to book your appointment with Team Dental through our online scheduling system. Just log on to our patient portal to request your desired date and time.
If you need to schedule dental care for your whole family, we recommend using our family block appointments. We bet your schedule is hectic enough, even before squeezing in a trip to the dentist. With these appointments, you can bring in everyone for back-to-back-appointments. That means less time spent going to and from the dental office and more quality family time!

---
First Visit
At Team Dental, we strive to make rewarding, long-lasting relationships with each of our patients. That's why when you come in for your first visit, you can expect an appointment solely reserved for you. We'll get to know your specific needs and goals and create a personalized treatment plan that gets you a beautiful, healthy smile. We're on your team when it comes to great oral health!
During this first appointment, we'll also take care of your first exam and cleaning so you don't have to come back for another visit. This routine check-up involves cleaning and polishing your teeth while removing any plaque. We will also check that everything is a-okay with your teeth, gums, and mouth and that there are no signs of disease. We might also take X-rays to detect any hidden issues. At the end of your appointment, we'll discuss tips for at-home care and next steps for your oral health care. We can't wait to meet you!
FAQ
What should I do if I have a toothache?
First, thoroughly clean around the sore area with a warm salt water rinse and try and remove any trapped food with floss. If the area is swollen, apply a cold compress (or a substitute like a bag of frozen peas) for 15 minutes. To help ease your pain until you can visit us, take an over-the-counter pain reliever, but do not apply it directly to your teeth or gums. Call our office to make an appointment so we can determine the cause of your pain and provide the appropriate treatment.
How do I take care of a broken tooth?
Find and save any pieces of the tooth that you can. Rinse away any food, dirt, or debris from the injured area with warm water. If the area is swollen, you can apply a cold compress for 15 minutes. Visit Team Dental immediately!
What if my tooth is knocked out?
Pick up the tooth but make sure to only touch the top/crown. Don't handle the tooth unnecessarily, but you can rinse it if needed. If the tooth isn't broken or cracked, gently reinsert it into its socket (but don't force it!) and hold it in place by biting down on clean gauze or cloth. If you're unable to reinsert it, put it in a cup of milk to help keep the root alive. Visit our practice immediately so we can try and save the tooth.
How do I take care of mouth trauma?
Apply wrapped ice to the bruised area. If you are bleeding, apply gentle pressure to the injured area with clean gauze or cloth. If the bleeding doesn't stop after 10 to 15 minutes, go to your nearest emergency room or urgent care center.
---
New Patient Information
Want to knock a few minutes off your first appointment? You're welcome to complete your patient forms before you come into our office, so you can just hand them to us when you arrive. That way, we can speed up your initial paperwork and get you going on your appointment even faster.
Patient Forms
If you are a new patient with no insurance, you might be interested in our in-house membership plan. A member of our team would be happy to explain how enrolling could help you save big on treatment costs and make dental care affordable for you and your family.
Visit Our Office